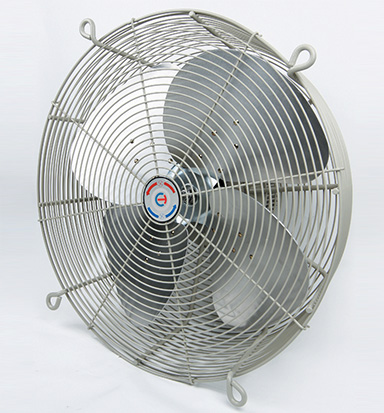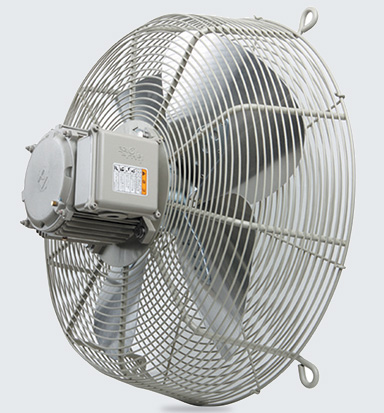 Fan Guard is constructed as ring shape by steel rod consisted of motor support and fan blade protector. It is possible to maintain low noise and high efficiency by reducing the total weight and minimize the disturbance of air flow.
The motor is fractional horsepower and total enclosed waterproof type. Insulation motor is 'F' class. On the continuous operation, it has high efficiency.
It is designed to provide enough windflow and is made of aluminum. Thus, it is light anticorrosive and heat-resistant. Especially, accurate and well balanced fan blade by the balancing machine makes possible to maintain the low noise.
• Motor Insulation : F Class
• Type : TENV
• Noise Level : 55dBA(60Hz), 58dBA(50Hz)
• Guards : Paint(Munsell no. 5Y 7/1, 75microns) or Hot dip galvanizing
Model

Air Flow
(㎥/sec)

CFM

P

Volts

Kw

Pole

Hz

R.P.M

Full Load




Current[A]

No Load




Current[A]

Starting




Current[A]

Weight




(Kg)

Watts

A
2.7 +
5790
3
380/220
0.4
8
60
840
1.5/1.6
1.1/1.3
5.0/9.0
26
380
B
2.7 +
5790
3
440
0.4
8
60
840
1.30
0.95
4.00
26
380
C
2.7 +
5790
3
460
0.4
8
60
840
1.20
0.90
3.80
26
380
D
2.7 +
5790
3
480
0.4
8
60
840
1.15
0.85
3.60
26
380
E
2.7 +
5790
3
120
0.4
8
60
840
4.50
3.50
16.00
26
380
F
2.2 +
4720
3
120
0.4
8
50
700
5.10
4.50
17.00
26
280
G
2.2 +
4720
3
208
0.4
8
50
700
3.10
2.70
10.00
26
280
H
2.2 +
4720
3
220
0.4
8
6
700
2.90
1.90
9.50
26
280
J
2.2 +
4720
3
380
0.4
8
6
700
1.70
1.10
5.50
26
280
K
2.2 +
4720
3
415
0.4
8
6
700
1.60
1.00
5.00
26
280
L
2.2 +
4720
3
460
0.4
8
6
700
1.40
0.90
4.50
26
280
M
2.7 +
5790
3
380
0.4
6
6
950
1.70
1.10
5.50
26
460
N
2.7 +
5790
3
208
0.4
8
6
840
2.80
1.90
10.00
26
380
Actual CFM[㎥/s] as measure on discharge side of one transformer
dBA at 6′[1.83m] from the perimeter of the fan in the open
Other volts, Hz or phases are available on request.
IP54, IP55, IP65
Sales Office
156, Seongseogongdanbuk-ro, Dalseo-gu, Daegu, Republic of Korea
+82-53-583-6612
+82-70-8836-6612
sales@swindustry.com
jangshi@nate.com